My Depression Shoes
December 3, 2009
Actually, I should call this entry my depression shopping spree.  But I'll stick to the shoes.  So why the "depression" you ask?  Well, I just moved into a new apartment in September and since then its been one big problem after another.  First, we were having refrigerator problems.  Next, then there was a leak in the ceiling, which caused our exposed brick to mold and as a result, we were living in a hotel for 3 (!!!) weeks.  Now, we are back in our apartment but half of it is still covered in plastic cause the brick has not completely dried.  To top it off, we are having refrigerator problems again.  Can you kill me?  We have the worst, absolute worst landlords.
Okay..so now you know why I've been in a foul mood for 1.5 months and as a result, my credit card has been taking a beating.  So the first purchase was a pair of YSL Tribtoo slingbacks that I had been eyeing.  YSL had this 1 day customer appreciation day sale so everything was 20% off 🙂  These babies came home with me:
Tribtoos come in 2 heights, I'm not sure exactly how high the high ones are but the ones I got are the lower ones – they are very comfortable.  The platform is pretty high in the toe area.
Then last Sunday, I got a postcard in the mail saying that YSL was starting their winter sale…so off I went back into the store.  I was planning on getting another pair of Tribtoos but these babies came home with me instead.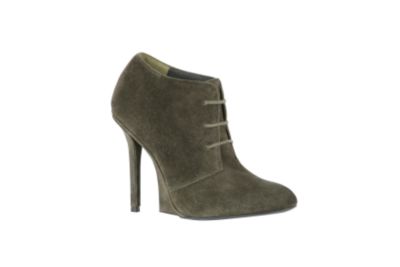 I call them wedge wanna-be's.  haha.
So that's it for now.  All the sales have officially started but I'm going to do my best to stay away as it is Christmas season so I have to focus on presents.   I hope my apartment situation goes back to normal soon cause my wallet can't handle it!